RTPI Displays for FARA in the City Of Trondheim
In the summer of 2019 Surtronic designed and supplied well over 300 Real-Time Passenger Information (RTPI) displays for FARA, Norway's leading technology company in public transport solutions. The displays were installed in the City of Trondheim as part of a larger project for AtB, the Public Transport Authority in one of Norway's largest provinces Trøndelag County. By signing this unique contract, FARA is one of the first in Norway to deliver a Real-Time Passenger Information system according to the new European industry standard ITxPT (Technology for Public Transport).
THE QUESTION
FARA requested the design and supply of over 300 high-quality, durable, lean and reliable RTPI displays operational in all weather conditions, especially the cold Nordic climate. The displays will be installed in new bus shelters throughout the City of Trondheim (200.000 inhabitants).
OUR SOLUTION
Surtronic designed, produced and delivered two customized types of displays: Thin Film Transistor (TFT) and double-sided 4-line Light Emitting Diode (LED) Passenger Information Displays, according to the IP65 standard, all-weather resistant and with a smart, modern housing design and climate control.
TFT Passenger Information Displays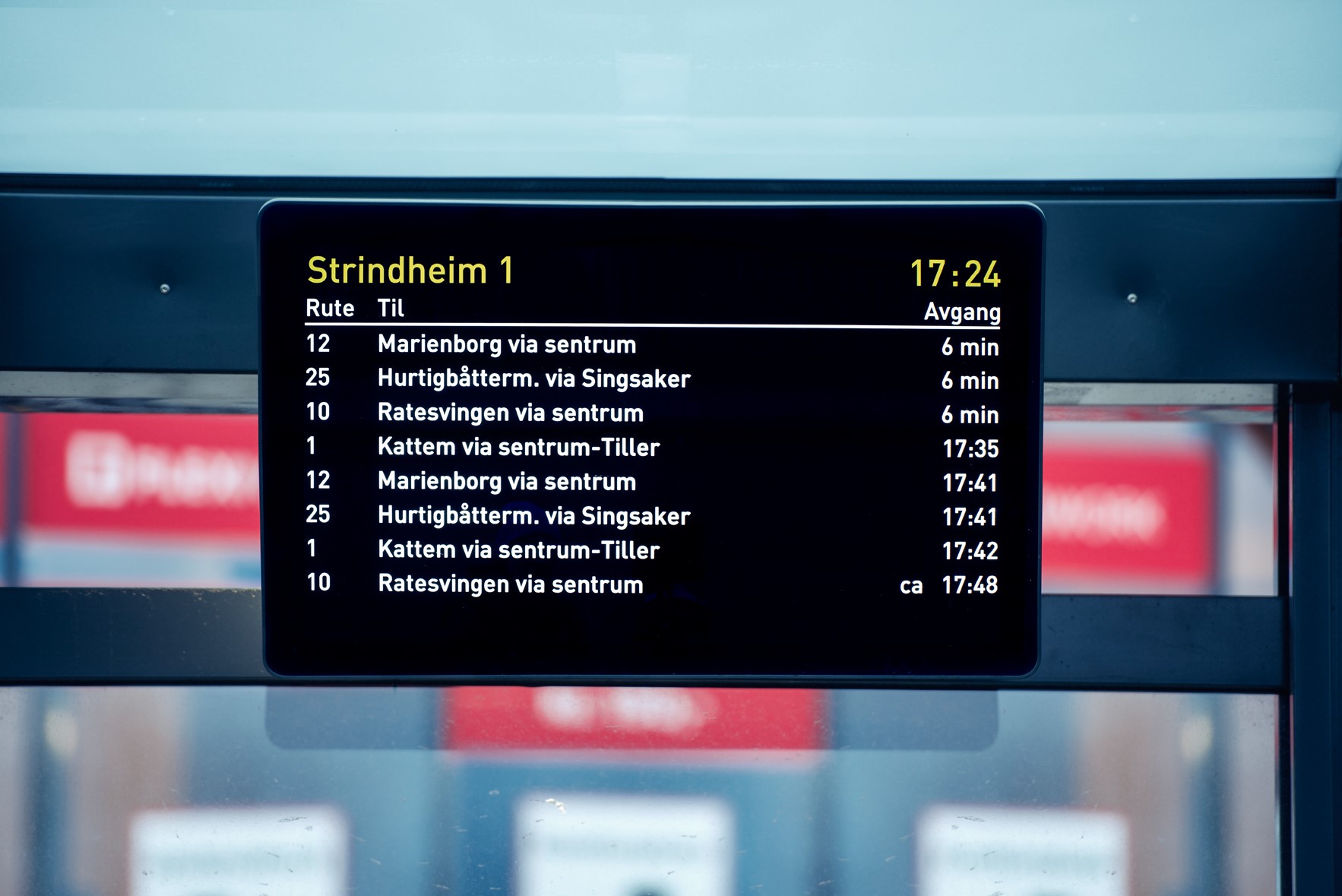 The Surtronic EPRTFT32 TFT display is a 32-inch LCD Passenger Information Display designed according to the IP65 standard and equipped with climate control. Our smart and unique housing design keeps the display cool at all times, ensuring that the heat of the TFT Panel and single-board computer is dissipated to the inside of the outer layer of the housing. Surtronic displays are also dustproof and protected against (melting) water. 
Benefits
Actual bus information via 4G+/LTE
Optical bonded high-quality, UV-protected, anti-reflective glass window 
Vandalism proof
All-weather resistant 
4-line LED Passenger Information Displays
The Surtronic EPR574.41 is a 4-line double-sided LED Passenger Information Display especially designed for long-term operational life. These specific Surtronic LED displays are all-weather resistant according to the IP65 standard. Our smart and unique casing design keeps them cool at all times making them suitable for a wide range of outdoor environments. 
Benefits
High attention value & contrast value
Operational in all weather conditions
140 degrees viewing angle
 
We design to your specification
When you choose Surtronic, you opt for quality, customized solutions and E2E accountability from design to delivery. We always design according to your specifications using our in-house expertise on critical technologies and processes. A global network of leading technology suppliers helps us fulfil any special needs you may have. When it comes to large-scale, offshore production enables us to be agile, scalable and competitive.
MORE INFORMATION
Do you want to know more about Surtronic and our proven and innovative solutions?
Please send email to info@surtronic.com or call us at +31 23 542 00 20.